1786 established by Mathew Wilson in Oxford Street
1961 the company was purchased by W. & H. Gidden Ltd.
2000 Champion & Wilton (wholesale) Ltd was dissolved after W. & H. Gidden was sold.
2014 Champion & Wilton's name was registered with Companies House
Royal Warrants held to Queen Victoria, King Edward VII, Queen Alexandra, King George V, King George VI, Queen Elizabeth II and the Duke of Edinburgh. In addition the German Emperor, Queen Maud of Norway and Queen Wilhelmina of the Netherlands.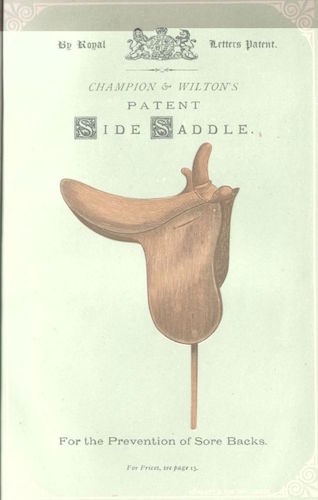 PLEASE BE AWARE THIS WEBSITE AND ITS CONTENT ARE COPYRIGHT OF CREATON SADDLES - © Creaton Saddles 2017.
All rights reserved. For further details please click here.